In the early 1900's makeup was still taboo, products that were specifically makeup were only just starting to be available and were being bought by those who had money, the upper class.
The makeup didn't come in different colours or complexions, instead only red was to be worn on the lips, pink was for the cheeks, and white powder was for the face.
Below is a picture of the white face powder women used to use
Edwardian women would also use enamel, a white face paint made with white lead (which we now know is toxic). If the woman had natural freckles they would put a thicker layer on as they aimed for their faces to be all one colour with no imperfections. They wanted to achieve a pale complexion because they believed that it made them look healthy and would show that they were classy. It could also be attributed to the fact that racism was very high at this time with the introduction of black people into the English society. People didn't like them because of their skin tone which could make sense as to why women wanted to make their skin paler so they could differentiate themselves from them and look more 'English'.
Below is an article I found about racism in the early 1900's. It doesn't includes links to makeup regarding racism, I just thought that researching it was a good idea as I could link the two together to give more context.
https://historicengland.org.uk/research/inclusive-heritage/another-england/a-brief-history/racism-and-resistance/
Women also used 'rouge' on their cheeks which is similar to blush that we use today. Below is a picture of one of the products they used.
They believed that having a red/pink stain to the cheeks made them look beautiful and rosy, as well as healthy.
I found this website that shows an article about Edwardian makeup from 1909. The article is about the rouge pot and it explains that a woman should aim to under do the application that than over do it. If they put too much on they would look like they were wearing 'a foolish mask'.
As well as wearing rouge on their cheeks, women also wore it on their lips. However lip rouge was red as that was the desired lip colour by  Edwardian women at the time. Below is a picture of lip rouge.
Women would just apply this as a stain on their lips rather than shaping them. They were all about natural beauty. Lipsticks weren't a thing and neither was their texture. Rouge was just a powder that was dabbed onto the lips using your fingers. It was used to give the lips more of a healthy colour. However some women would just gloss their lips if they were scared of being caught wearing makeup as it wasn't as socially accepted as it is now.
This is what their final look would be like.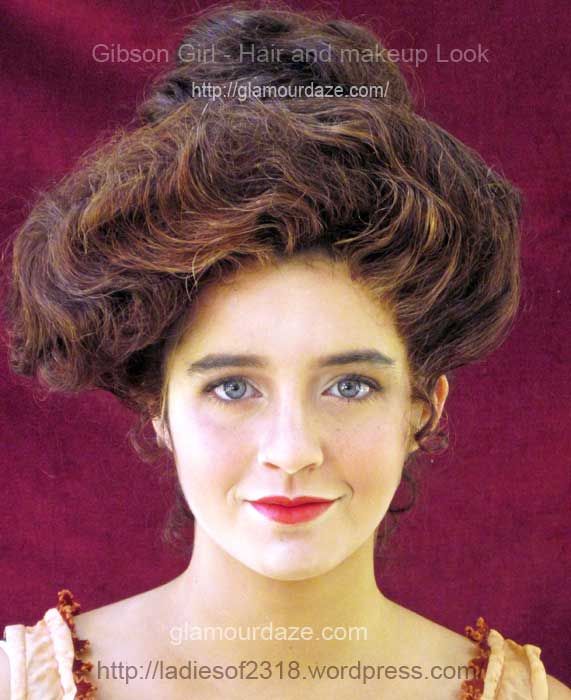 It's quite a soft and natural look made using only powdered products, which should be easy to replicate on the actors in the film I am working on.
The pictures of the makeup I have included from Edwardian times weren't around for the whole era as women began using makeup they had made themselves. They used to use poppy seeds and geranium on their lips in the earlier years rather than rouge. However these products only came out when the first Selfridges shop was established in London in 1909. This made it possible for women to not only buy makeup that was made to be put on their faces, but they could also try it on before they bought it. However many women were still ashamed to go and do this as wearing makeup was deemed to be shameful at the time. Companies like rimmel were around before this but they focused more on skincare and perfumes because nobody had really gone into the makeup business.
To conclude, I have learned a lot about Edwardian upper class makeup from this research. Most importantly I have learnt that all women wore the same makeup, in the same shades and used the same techniques so my application on all the actors will have to be the exact same. There can't be any variation like there should be with the lower class makeup.